FEBRUARY 19, 2008 COMMENT (Click for Video of Ned's Comments.)
DEAR MAYOR AND CITY COUNCIL MEMBERS
FOLLOWING UP ON MY COMMENTS MADE TO THIS BODY DECEMBER 4, 2007, WITH RESPECT TO THE SOUTHWESTERN COMMUNITY STRENGTHENING PLAN AND NOW THE WESTERN CHULA VISTA REVITALIZATION PLAN (comments in notes for PowerPoint are mine, editor T.A.) INTRODUCED AT LAST WEEK'S COUNCIL MEETING.
MY UNDERSTANDING OF THE SOUTHWESTERN COMMUNITY STRENGTHENING PROJECT IS THAT THE CITY WORKS WITH THE COMMUNITY, OBTAINING INPUT FROM THE VARIOUS COMMUNITY GROUPS AND THE RESIDENTS OF SOUTHWESTERN Chula Vista TO GAIN TRUST AND ACCOMPLISH A PRIORITIZED RESULT.
THE COMPETING CASTLE PARK APPEARANCE PROGRAM IS WHAT PROMPTED MY APPEARANCE AND COMMENTS ON DECEMBER 4. IT WAS INTRODUCED TO THE RESIDENTS BY A LETTER FROM CODE ENFORCEMENT NOVEMBER 2007 DEMANDING THAT THE RESIDENTS ALLOW ACCESS TO THEIR PROPERTIES FOR AN OPEN ENDED INVESTIGATION.
THIS IS NOT A COMMUNITY STRENGTHENING PLAN BY ANY STRETCH, BUT IS MORE CORRECTLY A COMMUNITY STRONG ARM PLAN.
THESE TWO PROGRAMS ARE ON A COLLISION COURSE WITH TRUST BETWEEN THE CITY AND THE RESIDENTS AS THE CASUALTY
AFTER MY COMMENT DECEMBER 4, I WAS ASKED BY A CITY OFFICIAL "HOW DO WE IMPROVE THE APPEARANCE OF THE AREA"? MY RESPONSE WAS SIMPLE - START BY REPAIRING OUR STREETS. MANAGE OUR ASSETS AND QUIT USING THE COST OF SIDEWALKS AS AN EXCUSE TO IGNORE ROAD REPAIR ALTOGETHER
AND MORE IMPORTANTLY STOP THE CITY INTRODUCED BLIGHT.
FORCE CONTRACTORS AND UTILITY COMPANIES TO MAKE QUALITY REPAIRS WHEN THEY OPEN UP THE STREETS, RATHER THAN ACCEPT THE UNBELIEVABLY POOR QUALITY STREET REPAIRS THAT WE ARE PLAGUED WITH IN THE COMMUNITY.
THIS IS THE BLIGHT THAT THE RESIDENTS ARE CONCERNED ABOUT AND FORCED TO LIVE WITH - MAKING IT DIFFICULT TO WALK OR RIDE A BICYCLE OR UTILIZE ANY OTHER ECONOMICAL FORM OF TRANSPORTATION. I AM NOT TALKING ABOUT POT HOLE REPAIR - MOST OF THE POT HOLES ARE CAUSED BY THE POOR QUALITY REPAIRS ACCEPTED BY CITY OFFICIALS.
LOOK AT THE STORM DRAIN WORK THAT IS UNDERWAY IN THE CASTLE PARK AREA IF YOU WANT EXAMPLES: NAPLES STREET BETWEEN 4TH AND 5TH; 4TH AVENUE SOUTH OF L STREET, EMERSON STREET, AND MUCH MORE - HORRIBLE WORK - THE CITY SHOULD REALLY BE EMBARRASSED BY THE POOR CONDITION OF WORK DONE ON OUR STREETS AND INFRASTRUCTURE. (Click here to see pictures of the work on Emerson.)
IF YOU NEED TO UNDERSTAND THIS CONCEPT WATCH THE DISNEY MOVIE "CARS"; SEE WHAT HAPPENS IN FICTIONAL "RADIATOR SPRINGS" WHEN THE STREET IS REPAIRED - MEMBERS OF THE FICTIONAL COMMUNITY COME OUT TO MAKE IMPROVEMENTS AND THE COMMUNITY THRIVES. DISNEY UNDERSTANDS THIS BASIC PRINCIPLE; GO LOOK WHERE THE ROADS HAVE BEEN IMPROVED - YOU WILL NOTICE A CLEAN-UP OCCURS NATURALLY, BY THE RESIDENTS - IT DOES NOT TAKE 5 CITY ENFORCERS INVESTIGATING LOOKING FOR A SPLINTER THAT IS OUT OF PLACE. WHY DOES THE CITY NOT UNDERSTAND?
<![if !supportEmptyParas]> <![endif]>
I HAVE RECENTLY ATTENDED A FOCUS GROUP OF THE SOUTHWESTERN COMMUNITY STRENGTHENING PROJECT AND BELIEVE THAT WELL MEANING PEOPLE ARE PARTICIPATING. I DO NOT WANT TO SOUND NEGATIVE ABOUT THE PROCESS BUT IT MUST BE MORE THAN ANOTHER EXPENSIVE CONSULTING REPORT, THAT IS IGNORED.
FURTHERMORE, THIS GROUP IS HEAVILY WEIGHTED TOWARDS THE NON-PROFIT DISADVANTAGED SECTOR OF THE COMMUNITY. I HAVE HAD DISCUSSIONS WITH CITY OFFICIALS REGARDING MY CONCERNS AND HOPE THIS WILL BE CORRECTED
WE NEED REPRESENTATIVE OF THE BUSINESS COMMUNITY; A CHAMBER OF COMMERCE REPRESENTATIVE;
RESTAURANT BUSINESSES?? - BETWEEN MOSS STREET AND PALOMAR STREET ON THIRD AVENUE EXISTS ONE OF THE GREATEST CONCENTRATION OF GOOD PLACES TO EAT IN THE CITY - PIZZA, A BREWERY, JAPANESE, MEXICAN, FISH & CHIPS, BASKIN & ROBBINS AND MORE;
LARGE END RETAILERS FROM THE PALOMAR STREET/BROADWAY CORRIDOR?? - WALMART, COSTCO, TARGET AND MORE; A MAJOR ECONOMIC ENGINE FOR THE CITY AND
THE AUTOMOTIVE BUSINESS REPRESENTATIVES FROM THE MAIN STREET CORRIDOR?? - NEW CARS, USED CARS, PARTS, REPAIR AND MORE.
NOW, ABOUT YOUR COMMUNITY STRONG ARM APPEARANCE PROGRAM:
5 CITY OFFICIALS ON DECEMBER 17, 2007, CONDUCTED THE CODE ENFORCEMENT INVESTIGATION. 2 CODE ENFORCEMENT - 2 POLICE DEPARTMENT AND ANOTHER CITY OFFICIAL THEY ENTERED 2ND AVENUE BETWEEN NAPLES STREET AND EMERSON STREET (A NICE APPROX. ½ BLOCK AREA) TO INVESTIGATE FOR CODE VIOLATIONS. CAN ANYONE ARGUE THAT THIS WAS ANYTHING OTHER THAN STRONG ARM AND INTIMIDATION?? PROVEN BY EMAILS BETWEEN CODE ENFORCEMENT AND THE POLICE DEPARTMENT OBTAINED UNDER A RECORDS REQUEST
IT DOES NOT APPEAR THAT A SHORTAGE OF MONEY EXISTS WHEN IT COMES TO STRONG ARMING RESIDENTS MIS-TRUST IN THE CITY IS WELL PLACED; HARD TO BELIEVE ANYTHING COMING FROM THE CITY ANYMORE
NOW, THE BOATS, CAMPERS AND VEHICLES HAVE BEEN RE-PARKED, BUT THE STREET SURFACE ON 2ND. AVENUE IS STILL IN A VERY POOR, BLIGHTED CONDITION -
AVERAGING LESS THAN 10 FEET IN WIDTH FOR THE TRAFFIC LANES,
CURBS AND GUTTERS CONSTRUCTED FROM ASPHALT CROSSING RESIDENTIAL DRIVEWAYS,
SANDBAGS PERMANENTLY INSTALLED AROUND DRAIN CULVERTS, RESIDENTS HAVE HAD TO CONTEND WITH A SINK HOLE THAT OCCURRED WITHIN DAYS OF THE WORKS COMPLETION AND MORE. (Click here to see pictures of the work on Emerson.)
I AM ACTUALLY EMBARRASSED FOR THE CITY MYSELF. MAYBE THE CITY COUNCIL SHOULD GIVE SOMEONE A PLAQUE OR CERTIFICATE TO HANG ON A WALL FOR THE JOB WELL DONE.
THE CITY SEES POVERTY AND BLIGHT BECAUSE THAT IS WHAT IT IS LOOKING FOR; REENFORCING THE NEGATIVE IMAGE THAT THE CITY ITSELF HAS OF THE COMMUNITY. A POSITION THAT THE RESIDENTS DO NOT SHARE WITH THE CITY. (Video from city presentation)
WHEN I REVIEW A CITY GENERATED REPORT WITH AN EMPHASIS ON THE 20% OF THE RESIDENTS THAT ARE BELOW POVERTY LEVEL, I SEE A REPORT STATING THAT 80% OF THE RESIDENTS ARE DOING OK. WHAT DO YOU SEE?
THE CITY STAFF AND ELECTED OFFICIALS MUST IMPROVE THE IMAGE THAT THEY THEMSELVES HAVE OF THE COMMUNITY. POOR, UNDERPRIVILEGED, BELOW POVERTY LEVEL, BLIGHTED - AS I SAID THE RESIDENTS OF THE AREA DO NOT SEE IT THAT WAY. THIS IS A VERY BASIC DIFFERENCE THAT EXISTS BETWEEN US.
FINALLY, THIS IS NOT ABOUT SIDEWALKS, CURBS AND GUTTERS; ACTUALLY I PERSONALLY COULD CARE LESS WHETHER OR NOT THE CITY INSTALLS SIDEWALKS, CURBS AND GUTTERS ON MY <![if !vml]>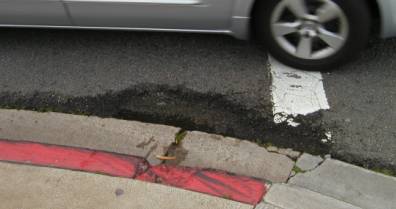 <![endif]><![if !vml]>

<![endif]>STREET.
<![if !supportEmptyParas]> <![endif]>
<![if !supportEmptyParas]> <![endif]>
<![if !supportEmptyParas]> <![endif]>
<![if !supportEmptyParas]> <![endif]>
THIS IS ABOUT BROKEN PROMISES AND EXCUSES - THIS IS ABOUT BASIC INFRASTRUCTURE - THIS IS ABOUT MISTRUST IN CITY OFFICIALS - THIS IS BASICALLY AND ULTIMATELY ABOUT RESPECT FOR THE COMMUNITY BY CITY OFFICIALS.
REPAIR THE STREET. DON'T PUT UGLY ASPHALT CURBS ACROSS THE DRIVEWAYS, WOULD THE CITY ALLOW THESE REPAIRS IN OTHER AREAS OF THE CITY? WHEN A CONTRACTOR OR UTILITY COMPANY BREACHES THE SURFACE OF THE STREET, FORCE THEM TO MAKE GOOD REPAIRS. I URGE YOU TO VISIT THE ROADS THAT I HAVE MENTIONED AND SEE IF I AM CORRECT.
WE REJECT YOUR "SOUTHWESTERN CHULA VISTA COMMUNITY SHOW OF STRENGTH PLAN"
WE HAVE JUST CELEBRATED PRESIDENTS' DAY
BRINGING ME TO THE FINAL POINT OF THE COMMENT LEFT AT THE PODIUM ON DECEMBER 4, WHICH IS BEST STATED BY OUR FOUNDING FOREFATHERS AS FOLLOWS:
"THE RIGHT OF THE PEOPLE TO BE SECURE IN THEIR PERSONS, HOUSES, PAPERS AND EFFECTS, AGAINST UNREASONABLE SEARCHES AND SEIZURES SHALL NOT BE VIOLATED, AND NO WARRANTS SHALL ISSUE, BUT UPON PROBABLE CAUSE, SUPPORTED BY OATH OR AFFIRMATION, AND PARTICULARITY DESCRIBING THE PLACE TO BE SEARCHED, AND THE PERSONS OR THINGS TO BE SEIZED." 4TH AMENDMENT TO BILL OF RIGHTS RATIFIED DECEMBER 15, 1791
YOU PAUSE FOR A MOMENT OF SILENCE BECAUSE WE HAVE FRIENDS AND FAMILY FIGHTING TO BRING THESE RIGHTS TO A FOREIGN LAND WHILE YOU, OUR OWN GOVERNMENT, HAVE BECOME DETERMINED TO VIOLATE THIS RIGHT AND IN ITS PLACE SUBSTITUTE AN INVESTORS BILL OF RIGHTS TO GUARANTEE A PROFIT FOR WEALTHY OUT OF TOWN INVESTORS AND PROFITEERS.
•  "Investor Bill of Rights" (•e.g. Project Schedule with Agreed Upon Target Dates/Commitments)
(From slide 24 0f Western Revitalization PowerPoint)

<![if !supportEmptyParas]> <![endif]>

<![if !supportEmptyParas]> <![endif]>

THE LETTER FROM CODE ENFORCEMENT CLEARLY DEMANDS A SEARCH OF PRIVATE PROPERTY WITHOUT A WARRANT, EVEN INVOLVING THE POLICE DEPARTMENT TO OBTAIN "COOPERATION," WHICH WOULD NOT BE NEEDED IF TRUST IN THE CITY EXISTED.

THE EMAIL FROM CODE ENFORCEMENT TO THE POLICE DEPARTMENT GOES EVEN FURTHER STATING THAT PARKING VIOLATORS WILL BE CITED BUT THE STREET IS IN SUCH A CONDITION THE CODE ENFORCEMENT OFFICER CANNOT EVEN DETERMINE WHERE THE STREET EDGE TERMINATES AND PARKING BEGINS

DO YOU LISTEN TO YOUR SELVES - AREN'T YOU EMBARRASSED???.

MY TIME IS UP:

YOU MAY RECALL THAT WHEN I SPOKE IN DECEMBER I WITHDREW MY SUPPORT OF THE CITY IN ITS REDEVELOPMENT EFFORTS IN FAVOR OF OPPOSITION.

I NOW WANT TO INTRODUCE TO YOU TO THE GROWING FACE OF OPPOSITION:

THE GROWING FACE OF MISTRUST -

<![if !vml]>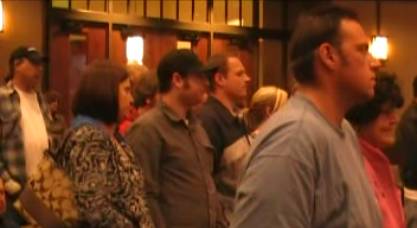 <![endif]>PLEASE STAND AND BE COUNTED.

RESIDENTS MEET YOUR MAYOR, CITY COUNCIL AND OTHER DECISION MAKERS.

DECISION MAKERS MEET YOUR GROWING OPPOSITION AND MISTRUST; THESE RESIDENTS TOOK THE TIME TO MEET YOU TODAY. FOR MANY THIS IS THEIR FIRST TIME AT A CITY COUNCIL MEETING AND HOPEFULLY NOT THE LAST.

<![if !vml]>

<![endif]>I RESPECTFULLY THANK YOU FOR ALLOWING ME TO SPEAK

GOOD NIGHT.

(Letter sent to neighbors, asking them to come.)

<![if !supportEmptyParas]> <![endif]>

Editor (Theresa Acerro)'s comments: After Ned and about half of the 50 residents who came to support him left, I filmed the reactions of the City Manager and Council.

        I was extremely disappointed in the City Manager (video of his comments). I had thought he was an honest man who would tell us the truth, but unless staff misinformed him, I no longer think this.  He slandered Ned in keeping with the current smear campaign being waged against activists in the city. He stated that Ned was cited for having junk vehicles and illegal structures on his property and he is taking great umbrage with this. This is absolutely untrue. First he was not sited for anything. He was given a notice that his large expensive boat that was parked in a driveway on his property was illegally parked. (This is debatable, because it was on a driveway sitting on a licensed trailer, but Ned removed the boat.) He also was told that the canopy over the driveway was not allowed. (This is a new regulation that has not been well advertised by the city, and hundreds of people use these in their driveways. Ned also removed this.) The code enforcement officer, even though she could not tell where the street began due to its poor condition, also objected to the licensed, operative car parked facing into the edge of the street instead of being parked parallel. (If you drive anywhere in this area you will see that most cars are not parallel parked because there are no curbs. Ned re-parked his car the way he was requested to park it.) The City Manager ended by saying that the city would work with Ned to get the city owned property repaired in his neighborhood. People applauded this last comment, but his other comments were totally uncalled for and inaccurate.  

        Councilman Ramirez spoke next. (Click here to see video.) He said he read all of Ned's documents and he had to agree this was not an appropriate way to go about code enforcement. He wants to meet with residents and ask them how we should address these code enforcement issues.  He pointed out that just as many people are asking for more code enforcement as are objecting to what happened in Ned's neighborhood. He did say he thought the way this was handled was not a smart way, and he was committed to finding a better way with the help of the residents.

        Councilman Rindone said he knew many of the people present and knew they were concerned with their neighborhood. (Click here to see video.) He expressed opinion that all properties need to be brought up to standards compatible with the rest of the neighborhood.  He stated that Code Enforcement must be done with compassion.

Councilman Castaneda spoke next and supported Ned fully. (Click here to see video) He acknowledged that the infrastructure problems were the city's responsibility and instead of hassling the residents the city should be working with the residents and focusing on taking care of the neglected infrastructure. He stated that the city needs to think about partnerships not running through the neighborhoods with a fleet of code enforcement officers. The city needs to make a commitment that it will do what needs to be done to make neighborhoods nicer.

Mayor Cox spoke last and cut off the applause for Councilman Castaneda, who clearly listened and understood why people were there. (Click here to see video) She took advantage of the situation. She told the people who were left that they demonstrated their interest in the community by coming. She introduced Nancy Lytle and asked her to give out fliers about two upcoming meetings for Community Strengthening Strategies in the southwest. She asked the people to become involved with this effort.